FREE SHIPPING TO CONTINENTAL U.S.
"Better Physics...Better Golf"®
Cutter Wedge Technical Specifications:

52°, 56° and 58° Loft
10°, 12° And 6° Bounce
64° Lie Angle
431 Stainless Steel
"Stiff" Stepless Steel Shaft
Gifted with a symmetrical face profile, crescent-shaped sole, and triangular head, the Cutter Wedge has a:

Self-Aiming Face – If your aim is off just 5° left or right from the target, an otherwise good shot calculates to an 8.7-yard distortion, which might be the difference between making or missing the green.
75% Larger Sweet Spot – Regardless of uphill, downhill or any lie angle, your sweet spot is NEVER reduced
66% less Leading Edge – Less leading edge means less drag, more speed and more accurate shots
BALANCED Perimeter Weighting – Lower "Center of Gravity" means higher trajectory and softer landings
Customer Reviews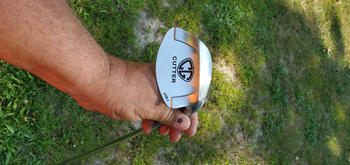 08/30/2021
I recommend this product
58° wedge
This club is a dream come true in the thick turf . Im quite impressed and hope to dial this tool in thank you
Bryon O.

Canada
10/11/2021
I recommend this product
Awesome Wedge
The Cutter Wedge is extremely consistent. I was concerned at 1st of the "different look", but I was surprised that It was a non issue. After the first few swings I was thinking I really like this club. Definitely a Game Changer!
Bill

United States
10/02/2021
I recommend this product
Pleasantly Surprised
I love the wedge in rough grass 40 yards in, with the pin tight to the rough. Cuts through the grass effortlessly without digging. Not great in the sand when its highly compacted, a low bounce blade does a better job. Great in medium to soft fluffy sand.Highly recommended, it has become part of my bag.
Angelo G.

Canada
10/01/2021
I recommend this product
Amazing Specialty Club
I did not love the cutter wedge on full shots or on tight lies, but WOW it is amazing in the rough and bunkers. If you have room in your bag for a specialty club, I highly recommend it.
Jason

Canada
08/28/2021
I recommend this product
Cutter wedge 52
Good. Works well on tight lies and in rough if hit a little behind. Got 5 more yards vs my usual gap wedge. Sets up well behind ball. Shaft a little stiff for me a senior.
Howard M.

United States