FREE SHIPPING TO CONTINENTAL U.S.
"Better Physics...Better Golf"®
Cutter Wedge Technical Specifications:

52°, 56° and 58° Loft
10°, 12° And 6° Bounce
64° Lie Angle
431 Stainless Steel
"Stiff" Stepless Steel Shaft
Gifted with a symmetrical face profile, crescent-shaped sole, and triangular head, the Cutter Wedge has a:

Self-Aiming Face – If your aim is off just 5° left or right from the target, an otherwise good shot calculates to an 8.7-yard distortion, which might be the difference between making or missing the green.
75% Larger Sweet Spot – Regardless of uphill, downhill or any lie angle, your sweet spot is NEVER reduced
66% less Leading Edge – Less leading edge means less drag, more speed and more accurate shots
BALANCED Perimeter Weighting – Lower "Center of Gravity" means higher trajectory and softer landings
Customer Reviews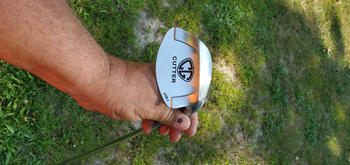 08/30/2021
I recommend this product
58° wedge
This club is a dream come true in the thick turf . Im quite impressed and hope to dial this tool in thank you
Bryon O.

Canada
01/07/2022
I recommend this product
Mid winter, not used yet.
12/29/2021
I recommend this product
Good club for my course. I like it a lot
Anonymous

United States
12/09/2021
I recommend this product
Absolutely Brilliant!
I have purchased all three of your wedges off amazon UK. Absolutely brilliant! You are onto a real winner here. Would you be releasing various lofts of wedges in the future and possibly a lob wedge in the 6o degree loft or greater? All the best and have a Merry Christmas!
Clive G.

United States
12/07/2021
I recommend this product
Bought for a customer I recommend this wedge to golfers who have problems with wedges especially sand
gene M.

United States