FREE SHIPPING TO CONTINENTAL U.S.
"Better Physics...Better Golf"®
Cutter Wedge Technical Specifications:

52°, 56° and 58° Loft
10°, 12° And 6° Bounce
64° Lie Angle
431 Stainless Steel
"Stiff" Stepless Steel Shaft
Gifted with a symmetrical face profile, crescent-shaped sole, and triangular head, the Cutter Wedge has a:

Self-Aiming Face – If your aim is off just 5° left or right from the target, an otherwise good shot calculates to an 8.7-yard distortion, which might be the difference between making or missing the green.
75% Larger Sweet Spot – Regardless of uphill, downhill or any lie angle, your sweet spot is NEVER reduced
66% less Leading Edge – Less leading edge means less drag, more speed and more accurate shots
BALANCED Perimeter Weighting – Lower "Center of Gravity" means higher trajectory and softer landings
Customer Reviews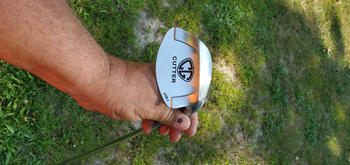 08/30/2021
I recommend this product
58° wedge
This club is a dream come true in the thick turf . Im quite impressed and hope to dial this tool in thank you
Bryon O.

Canada
11/23/2021
I recommend this product
Jury still out
So far it is good. Need more time to evaluate.
Anonymous

United States
11/19/2021
I recommend this product
Strange looking but effective
The club works very well from thick lies in the rough as well as normal lies around the greens. I have the 58 degree with 6 degree bounce. It works fine out of firm sand but there is not enough bounce for softer, fluffier sand. I wish they offered a 58 with more bounce.
Anonymous

United States
11/11/2021
I recommend this product
Great Game Changer
I have the 56 and the 58 wedges. From 100 yards and in, tight lies, slight rough and heavier rough they hands down beat my previous wedges. Will be picking up the 52.
Bill B.

United States
11/05/2021
I recommend this product
This is my honest opinion...
Frist I'd like to say this is my honest opinion and this is not a fake endorsement. I'm a very good golfer and the only reason I do not score in the 70s is my short game, Within 60 yards, I ****, these extra strokes take my rounds into the mid to sometimes high 80s. Very frustrating, I play well, but give away birdies and pars. My traditional wedges just dig and dig costing me at least 5 or 6 strokes a round. Of course it's me and not the club, Saving grace, the Cutter wedge pops the ball up for me around the greens and takes those chilly dips out of my round. Before the Cutter wedge I use to purposely land the ball at least 100 yards short of the green, so I could take a full swing and not have to worry about chipping or pitching. With the cutter wedge I'm no longer scared to land the ball close to the green, the club even cuts though the thicker ruff with little effort. I haven't perfected the club just yet, but I'm not sculling the ball across the green and it is very hard to hit the ball fat. I'm landing the ball softly on the green which is a marked improvement. I'm looking to break 80 with this new tool. I'm kind of a golf snob, so the only thing that is not ideal is the look of the club is not traditional, I give the club 4 out of 5 stars with my only mark down is the look...not performance, If Cutter wedge takes me into the 70s, like I think it will, I can get past the look. If you struggle from 60 yards in, I recommend the Cutter wedge, its not a gimmick, the club works as advertised.
William

United States